I spent the previous year glued to HGTV and DIY Network, and more recently, I've been looking at more blogs than should be allowed.
If there's one thing I've noticed (besides shabby-chic, distressed, beachy, etc.), it's that white kitchens are very popular.
I love white kitchens, and I know they're timeless. In fact, if we were staying in our current home (or had another 12 months to get it ready), I would definitely be painting my cabinetry white. And putting in new wood flooring. And new light fixtures. Okay, I realize there's no good place to stop.
But am I nuts for not wanting a white kitchen in the new pad?
Perhaps. Look at how beautiful these white kitchens are!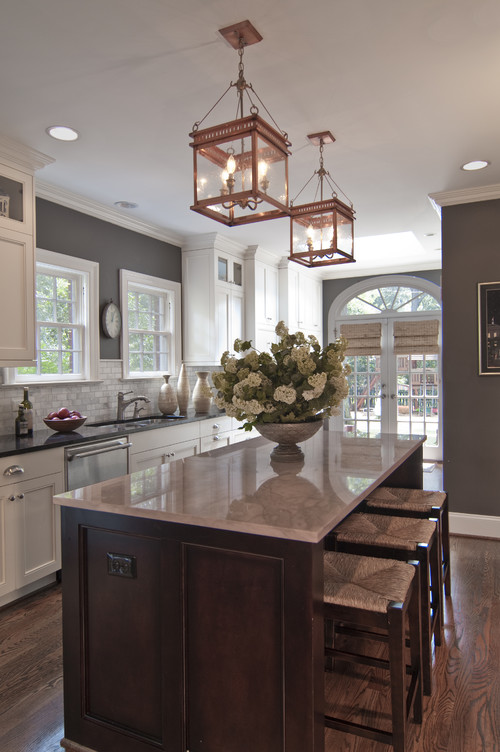 You get the picture. And I could go on for days.
But do I want a white kitchen?
Trust me. I've toyed with the idea. I've agonized over it. I've torn all my hair out and it's magically grown back as natural blonde. I wake the doggie up in the middle of the night to discuss.
Not really.
One thing that "helped" is that Philly really doesn't like white kitchens. (Let me remind you he's a "wood purist.") And there are some things worth fighting for, but since I wasn't 100% sold on a white kitchen to begin with, it's certainly not worth a battle.
So...I searched all over the country...the planet...the universe. Okay, I searched on Houzz. This kitchen represents nearly everything I've got planned for the new place.
What do you think? I'm in love.
It was WAY easier to find white kitchens than it was to find this. Ummm...should that be telling me something? I'm going with, "this looks awesome and not everyone has this look." Yep. That's what I'm telling myself.
This is pretty darn close to what I have in mind. From the wood floors, to the slightly darker cherry wood, floor-to-ceiling, shaker-style cabinets along the perimeter, to the creamy-dreamy-white island...
And I even love the creamy-white subway tile, although I think we're going to wait awhile before installing a permanent backsplash. Let's just say I have commitment issues.
Sometimes.
Well, occasionally.
Not really.
Okay, yes, I do.
I love this kitchen. I love everything about this kitchen. I can't find a single thing in this kitchen that I DON'T like.
What do you think?
OH! And who thinks I should have a pot filler? This kitchen has one. I have to decide soon since the plumber comes MONDAY!